Four reasons why my neck is killing me!
Reason number one:
Computer usage, especially laptop computer usage. Laptop computers make us strain our neck and shoulders forward. Lurching the head forward creates neck pain by putting more strain on the neck muscles.
The further the head juts ahead, the more strain is placed on the muscles that run from the head to the shoulders. People that spend long hours on a laptop computer are jutting their neck and shoulders forward to stare at the screen.
Watch other people's posture as they are using their laptop computers. Look at how they are pushing their necks forward to look at their small screen. Then have someone look at your posture while you are on your computer. Are your shoulders squeezed together or leaning forward?  Is your head leaning ahead of your chest? Over time, these postural problems create neck pain. Using a larger keyboard and a larger computer screen will help your posture. When using a larger computer screen, enlarge the text to maximum visibility. That will encourage you to keep your neck and shoulders back – good anatomical position.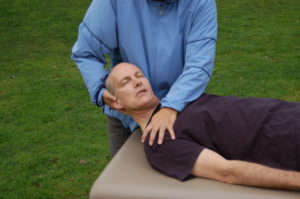 Second reason my neck is killing me: Weakness in the trapezius muscle. The trapezius muscle (traps) is a primary muscle of the upper back, one of the main muscles in between the shoulder blades. Many people neglect doing strength training exercises for the trapezius muscle, especially women. Many women feel that developing the trapezius muscle will make them look manly. The neck rests on the traps. When the traps are weak, then the support structure – the foundation for the neck is vulnerable.
Third reason my neck is killing me: Women with larger breasts are susceptible to neck pain. Large breasted women are more likely to be pulled forward and downwards in the upper body. Similar to using a laptop computer, women with large breasts are pulled away from correct anatomical position by the weight of their breasts. Additionally, many women are likely not to do strength training exercises for the trapezius muscle and the latissimus dorsi muscle. Two major muscles of the upper back that will help to hold up the weight of the chest. As women age, the breasts generally get heavier. This added weight increases the chance of being pulled out of alignment. As posture worsens, many women will also develop a hump in the back of their neck. This problem is called dowager's hump or kyphosis. It is related to neck pain. And it can be reversed with Active Isolated Stretching therapy.
Fourth reason my neck is killing me: Using a computer desk that is too high.
If you spend a lot of time at your desk, then you need to be sure that your elbows are not raised too high. A high desk can raise the position of your elbows, which can cause strain in your trapezius muscle. People that put a computer on a dining room table can be straining their trapezius muscle, which leads to referred pain in the neck. That is the reason why the keyboard slot on computer desks are low.
This is not an exhaustive list for chronic neck pain. The general theme is that weakness or excessive strain in the upper body muscles will commonly lead to pain in the neck. If you are experiencing chronic neck pain, finding a qualified AIS therapist will surely help.
The Mattes Method approach for chronic neck pain is threefold:
1.) Receive treatment from a trained therapist in Active Isolated Stretching.
2.) Learn how to do the self-applied AIS stretching protocol.
3.) Do upper body strength training exercises to maintain correct posture.
This article can also be helpful to you :