People suffering from Alzheimer's disease lose cognitive ability. This decline is exacerbated by the physical decline occurring in their bodies. Alzheimer's patients are affected by poor blood flow to the brain. This is caused by tightness in a series of upper body muscles including the chest, shoulders, arms, and neck (primarily). As Alzheimer's patients lose physical mobility in these key areas, the blood flow from the neck to the brain is weakened. Without blood the brain has no fuel. The carotid and vertebral arteries, the main lines of blood to the brain lie underneath the upper body muscles.
Muscle rigidity is a common characteristic of Alzheimer's patients. Upper body muscles are tight and inflamed. And inflamed muscles of the neck press into the carotid artery impeding blood flow to the brain.
The solution is use Active Isolated Stretching therapy with an emphasis on upper body and neck stretching. While it may not cure Alzheimer's, it will improve their condition. AIS therapy will reverse negative cognitive function because the brain will receive more nutrients when the body function improves. Memory, concentration, reasoning skills, emotional outbursts, and other negative aspects of Alzheimer's disease can be mitigated through Active Isolated Stretching. The key is working with the neck.
Medication may be a necessity for Alzheimer's patients. But is that the only treatment we use for Alzheimer's disease? Alzheimer's disease has a physical component.  If medication isn't doing enough improve an Alzheimer's patient's life, then we need to look at complimentary therapies that may be of benefit.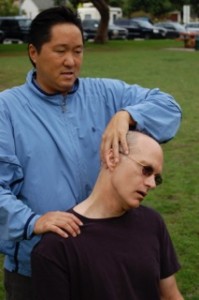 This article can also be helpful to you :