Those seeking to improve their golf swing need to know about Active Isolated Stretching. The best golf swing tip is improving flexibility in your body. By increasing flexibility in your body, you increase range of motion in your rotation. Greater range of motion in your rotation leads to more power in your golf swing.
AIS therapy is a reinvention of the stretching process. The procedures have been changed to get optimal muscle lengthening. Pro golfers already know about the performance benefits that AIS training can bring for to their sport. Professionals that use AIS techniques include: Arnold Palmer, Fred Couples, and VJ Singh. Whatever level you are at in golf, AIS flexibility training will improve your game.
AIS therapy involves a therapist helping the golfer to stretch. Results are magnified with the help of a trained stretching coach. Getting more rotation is an entire body process. Head to toe muscles are involved in the perfect swing and AIS protocol improves muscle length in the entire body. The low back and the hip rotator muscles will be opened like you have never experienced!
Active Isolated Stretching is an essential part of golf fitness. It should be started before major tournaments. Golfers can play golf immediately after an AIS session. And golfers will feel immediate changes to their rotation and added power in their drive. "Everything glides better in my swing," says David K. an avid golfer, "I play with greater ease and I don't experience stiffness during the game. I played better in my last tournament and I know that AIS is part of the reason."
Those seeking a comprehensive system for golf stretching exercises will be interested in Active Isolated Stretching. Golfers schedule one-to-one appointment sessions with an assisted stretching coach and they also learn self-applied stretching exercises that can be done on their own before a game.
Results of Active Isolated Stretching are long term. Treatment sessions unwind knotted muscles that are interfering in a golfer's rotation. Furthermore, golfers learn to hold their improved posture with AIS strengthening exercises. Once the body is reshaped thru assisted stretching, then the golfer rebuilds the muscles with strengthening exercises geared towards golf performance.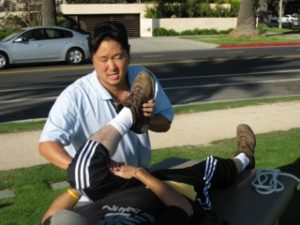 This article can also be helpful to you :