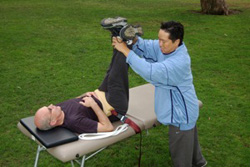 Is it harder to cure and get back pain treatment in Los Angeles? I believe the answer is yes. Kevin Starr, historian and the state librarian of California, says that the academic history of Los Angeles is preprofessional in make up. The main universities, USC and UCLA, historically have emphasized pragmatic professional education. Students were trained to become doctors, lawyers, accountants, and dentists more so than philosophers and poets. How does this affect finding a good back pain specialist in Los Angeles? Advanced degrees in health or medicine do not translate into making that practitioner more effective at treating back pain. We must isolate back pain treatment from other areas of medicine. Because back pain treatment is not handled well by medical doctors. Two Consumer Reports studies on back pain treatment (circa 2005 & May 2009) found that physical therapy, acupuncture, and surgery are less effective than deep tissue massage therapy. A deep tissue massage therapist can be licensed in six months (you need more time to become good). Physical therapy, acupuncture, and surgery take multiple years to become a licensed practitioner.
These Consumer Reports studies contradict the preprofessional theory that advanced academic degrees will breed proficiency and thereby result in higher income and higher social status.
Many back pain specialists  get into the field as a career choice: to earn money, to gain respect among their peers, to have a title. These type of pain specialists are not driven to find the best solution available. They willingly accept techniques that are taught in their institutions. The best solutions for back pain are not being taught in academic universities. Perhaps some questions to ask your back pain specialist are: "Did you ever suffer from chronic low back pain? How long did you experience it? How many therapies did you try before you found the one that helped you?"  Frequently, I hear stories of patients returning to their doctors to tell them that their treatment is ineffective. And commonly the doctor's response is cold disinterest. This response is a coping mechanism.  They erase the failures from their mind because their practice depends upon it.
I considered becoming a chiropractor or physical therapist. But I had tried these modalities numerous times. How could I honestly say that I could help someone with their back pain when it didn't help me with my own back problem? A good back pain specialist has to be more seeker of truth than pragmatist. Unfortunately, more people in Los Angeles are pragmatists according to Kevin Starr. And that character makeup is not well suited for finding solutions to the back pain problem, an enigma that has reached epidemic proportions.
This article can also be helpful to you :