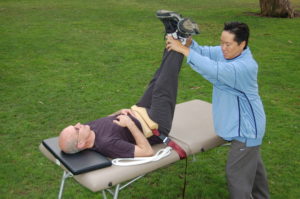 Tips for low back pain. Focus should be on decreasing inflammation.
• drink 1 or 2 ounce shots of ginger juice. This is the vegetable juice version of drinking shots of whiskey. Be careful, its not easy to put it down. But within 10 seconds of downing it, you will feel better. It naturally decreases inflammation in your body. And it helps prevent grey hairs.
• When swimming, focus on backstroke. Backstroke will get your shoulders back. Everything we do in life causes our shoulders to go forward. Getting the shoulders back will take pressure off the low back. Conversely, if you have low back pain, don't spend a lot of time doing freestyle. This will further forward leaning shoulders and thereby add to your back pain.
• Avoid sleeping on your side or your stomach. Sleeping on your side will cause you to push your shoulder into the socket. Shoulder tightness affects neck mobility; and neck mobility causes more stiffness in the low back. The neck and back are in the same column. One affects the other. You can sleep on your stomach safely if you sleep on a body mold insert. The name of the product is the Bodycushion.  Place it on top of your bed. Sleep on it and your neck and back will be in correct alignment. Visit www.bodysupport.com
Otherwise sleeping on your back with your legs and ankles elevated is very good for the low back. Put two pillows underneath each knee and ankle (the long way).
• Take a bath with apple cider vinegar and epsom salt. When I did this (I no longer need it) I would put one gallon of apple cider vinegar and at least two quarts of salt. But one quart of each is probably enough for most people. Soak for thirty minutes with hot water. It gets your tub really clean too.
• Walk barefoot on the beach. And rest on the beach with an organic material, like cotton or straw, underneath you. Most people are electron deprived, electrons are strongest where the sand meets the surf. Being recharged with electrons will decrease inflammation in your body. Laying on the beach and walking barefoot on the sand will also reset your circadian rhythmn and help with sleeping problems. Its even okay to nap on the beach during the day. You will still sleep well that night. When walking on the beach try to walk on the flat part to prevent an imbalance to your hips.
• Most importantly, get therapeutic stretching treatment from Anthony Ohm in Honolulu, Hawaii, Oahu.
Active Isolated Stretching (AIS) from a trained therapist will manually pull apart the shortened muscles that are causing you back pain. Of all low back pain exercises, getting AIS treatment is of highest priority.
This article can also be helpful to you :