Neuropathy or nerve pain occurs when inflamed muscles press into the nerve fibers. Muscles either lie on top of nerves or nerves pass through muscles.  Neuropathy pain can be released when the problematic muscles are released. Releasing or lengthening problematic muscles can be greatly facilitated by a trained stretching coach, a specialist that helps a person to stretch. Neuropathy pain occurs in the extremities: leg, ankle, foot, hand, or arm. Regardless of the area where neuropathy occurs, neuropathy can be solved without surgery by using a rehabilitation method called Active Isolated Stretching and Strengthening.
Sciatica is neuropathy in the low back or hip region
If you have numbness in your leg or foot, then it is likely that you have excessive tightness in the hip, low back region. Tight muscles in the low back region can exert pressure onto the sciatic nerve that then causes pain, numbness, or itching in the leg, foot, or ankle. If you have numbness in your hand or arm, then this will be caused by muscular tightness in your upper body region – the shoulders, chest, arms, and neck area. Removing the muscular tightness will remove the neuropathy!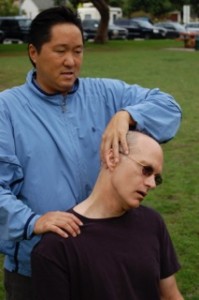 The root cause of neuropathy pain
Active Isolated Stretching works for neuropathy and nerve pain because it treats the root cause: muscular inflexibility. An advanced practitioner will guide a client through a series of movements. The therapist will help the client stretch further than that person can achieve on their own. Instead of holding the stretch for one long time, the trained specialist will only hold the stretch for two seconds and do repetitions of each stretch. Repetitions will open the target muscle more than one long hold. Additionally, the problem area must be lengthened from multiple angles. These points are not fully understood by other neuropathy specialists, including physicians, surgeons, chiropractors, rolfers, physical therapists, and massage therapists.
How can something so simple as stretching solve neuropathy?
If therapeutic stretching is so effective for treating neuropathy then leads the question: How can something so simple as stretching solve my neuropathy pain? The answer lies in the diligent research that the founder of Active Isolated Stretching underwent to develop the AIS method. The majority of physical pain conditions are caused by muscular inflexibility. Aaron Mattes, a kinesiologist, found that conventional stretching was ineffective in lengthening muscles. Using conventional stretch methods, a muscle will open and close quickly because the technique is faulty. Through his academic study and dissection of cadavers, Aaron Mattes identified a new way to open target muscles. Because the Mattes method is so effective at muscle lengthening it can be applied to neuropathy without using pills, injections, or dangerous surgical procedures.
Muscles and nerves run together in parallel fashion. Excessive muscular tension is the cause of nerve pain. And removing muscular tightness (thoroughly, in a detailed method) will remove nerve pain. Its a very simple concept. But it is a concept that is yet to be recognized by the majority public. Surgery is another method for treating neuropathy, and if you do any research you will find that the results are unpredictable. Undergoing surgical procedure involves shaving or fusing discs in the vertebral column. Those discs are there for a reason and altering them should not be taken lightly. The Active Isolated Stretching exercise involves working with a therapist that facilitates movement and flexibility. Through the AIS method,  as you increase your range of motion, your neuropathy will decrease to the point of elimination.
Elongate your muscles and you will decrease inflammation in your body. The pressure on your nerves will be naturally lifted away. Use the AIS method to solve neuropathy. Other methods of stretching will fail because they are not specific enough.
This article can also be helpful to you :