Honolulu, Hawaii — If you are seeking new things to do on your next trip to Waikiki, Honolulu then consider Active Isolated Stretching therapy. AIS therapy is the world's best form of bodywork. Three hours of Active Isolated Stretching is better than nine months of yoga. When you are finished with an AIS session your body feels like it is floating.
Active Isolated Stretching is new to Waikiki and Honolulu. Anthony Ohm is offering treatment in the Waikiki-Kapahulu area of Honolulu, after years of study and practice on the mainland.
AIS involves a trained therapist assisting a client in the process of therapeutic stretching. AIS is an optimized form of muscle lengthening. Far above our notion of conventional stretching.
AIS is detailed work, it takes time, and the results are worth it.
If you have been suffering from a chronic pain issue and now you are visiting Waikiki, then this is your opportunity to get the treatment you need.
Active Isolated Stretching is highly beneficial for:
low back pain, degenerative disc, herniated disc, bulging disc, stiffness from frequent flying, chronic neck pain, cervical pain, jaw pain, migraine headaches, paralysis, frozen shoulder or shoulder pain, sports injuries, sports improvement,
sciatica, scoliosis, neuropathy, spondylitis, alzheimer's, multiple sclerosis, parkinson's, arthritis, bursitis,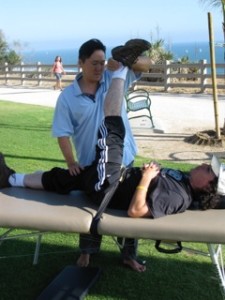 This article can also be helpful to you :