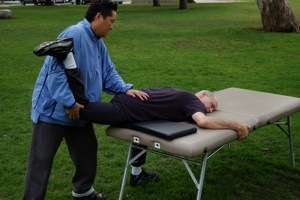 Honolulu  — If you want to cure back pain, you may have to search beyond conventional therapies. I suffered from chronic low back pain for over twenty-five years. I met with forty back pain specialists including physicians, physical therapists, chiropractors, massage therapists, rolfers, and acupuncturists. I was frustrated and bedridden. My life started to improve when I made the decision to be active in my search for treatment. I enrolled in vocational training for back pain treatment including massage school, Pilates instructor training, and Gyrotonic instructor training. By enrolling in these schools, I learned more precisely what I was suffering from and I became exposed to alternative therapies that are not well known.
Before enrolling in vocational training programs for back pain treatment, I was depressed and frustrated by the ineffective treatments for low back pain. Why is it so hard to find a good specialist for back pain? In the book How Doctors Think by Jerome Groopman, M.D., the author discusses back pain treatment on pages 224 -233. Dr. Groopman states that each specialist of back pain becomes a franchise in which they believe that their modality is better than the others. Little interaction exists between the different specialists. Why would one specialist of back pain refer another specialist of back pain, if they are using different modalities? That could be construed as an admission that their franchise is less effective than another franchise? Acupuncturists believe that acupuncture is the best way to resolve back pain, and surgeons sort of believe that surgery is the way to solve back pain. Sort of? Surgeons initially recommend seeking other therapies. (But they are not well versed in other therapies to recommend). Dr. Groopman states that surgeons grow frustrated when they discourage surgery and later learn that those patients go to another surgeon and have the back surgery instead of trying alternative therapies (maybe the patients elect surgery because they haven't been given adequate alternatives). Part of the reason that too many surgeries take place, Dr. Groopman implies, is financial. A surgeon can receive $20,000 dollars for spinal fusion surgery (page 228).


"(Dr.) Wheeler discovered that nearly all of the patients he turned away were operated on by other surgeons in his area. He decided that if his patients were to have surgery, he might as well be the one to do it." (page 228, Groopman).


Did Dr. Wheeler do the research and suggest some specialty techniques like Active Isolated Stretching & Strengthening, developed by Aaron Mattes? Has Dr. Wheeler heard of Erik Dalton's Myoskeletal Alignment? What about Neuromuscular Treatment as taught by Paul St. John? These are alternative therapies worth trying for back pain, but M.D.'s don't advise their clients to seek out these therapies. I didn't find out about these therapies until I had been studying back pain treatment for three years. Our culture places a great deal of trust in the medical profession. So when an M.D. doesn't back up his advice by suggesting solid alternatives, many people misconstrue that to mean that there are no solid alternatives. The more likely truth is that M.D.'s do not have the interest to find these solid alternatives for their patients. Why not? I don't know. But it's irresponsible.
This article can also be helpful to you :