The DRX 9000 spinal decompression machine claims that it can cure chronic neck and back pain. I suffered from chronic low back pain and neck pain. I tried DRX 9000 spinal decompression treatment. In total, I did about 16 sessions. As a practicing massage therapist and personal trainer, I attended a workshop and met some other health practitioners who spoke about it.
These are my findings.
The DRX 9000 is a form of traction; an outgrowth of the inversion table. Instead of hanging upside down, you are put in a downward angle and the machine gently pulls you apart in one position: a straight up and down traction pull.
I did numerous sessions on the DRX 9000 and it came highly touted. It only pulls the client in one position. Look at any anatomy book and you will see that few muscles attach straight up and down. If they did, then hanging from a bar would cure all neck and back ailments. "Spinal Decompression" is an excellent marketing term. Unfortunately, the DRX 9000 does not do justice to the term.
I attended a four day lecture in San Diego. The topic was the Rossiter system. A modality in which a client stretches against applied pressure. In the workshop, there were three people from an office in San Bernadino, California. They spoke highly about the DRX 9000 and stated that they saw many people make great recoveries from back and neck pain using the machine.
They were students at the workshop. And the workshop was not addressing the DRX 9000 machine. I think the San Bernadino people were genuine when they said that they witnessed many recoveries from the device.
Personally, I don't think that using spinal decompression is an efficient use of therapeutic dollars. I've heard a few people say otherwise.
The machine itself is very expensive to purchase. Chiropractors are the biggest user group.
The chiropractor will sell the client on a series of sessions. The client comes into the office and is strapped into the machine and stays in the device for about twenty minutes.
Further treatment may include heat packs, electrical stimulation, and chiropractic adjustments.
Traction is good. But it alone is not good enough to solve back and neck pain. When I was pitched for the DRX 9000 it was presented as this revolutionary device that elicits major structural changes. Promoters of the DRX 9000 can counter that it is just an addition to their effective procedure which includes standard chiropractic care. Once I started to move from the DRX 9000 to the heat packs, electric stimulation, and chiropractic adjustments, I started to have my doubts. This was supposed to be something revolutionary? But its turning out to be same old same old.
The DRX 9000 was part of my journey of getting free of back pain. It was another chiropractor, physical therapist, physician, that claimed that they had the magical elixir. They built it up, and tried to sell it. The great thing for the chiropractor is if they can sell a series to a client, its passive income. The client just lays on the machine table and the chiropractor does nothing.
If it worked, it would be great for everybody.
For some people it may work.
I do not endorse it.
Too many muscles are involved in causing neck or back pain. A few of them run in the directional line that the spinal decompression machine is pulling the client. But at best, its only affecting ten percent of the muscles that are causing the problem.
If it works for you, fantastic!
If it doesn't work, don't conclude that you have tried everything possible and now you must elect for surgery or opioid pain killers.
The process of finding the right modality to cure physical pain is filled with many disappointments before finding the therapy that truly works.
Keep an open mind. Explore your options. Finding the right technique may be just within your grasp.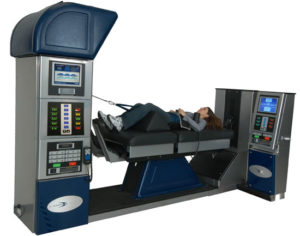 This article can also be helpful to you :