A Coach for Stretching?
When it comes to neck, back, shoulder, and other pain, Anthony Ohm is the pain specialist to call. Referred to as a Stretching Coach in Honolulu, he offers an effective alternative to chiropractic and physical therapy.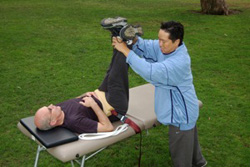 Anthony has suffered from chronic low back pain himself for several years, partly from exercising incorrectly as a teen. Eventually his psoas muscle became tight and distorted, creating severe pain in his lower back. He endured unsuccessful attempts at seeking medical help from doctors, over 40 back specialists – neurosurgeons, physical therapists, chiropractors and more,  before he had his first treatment in Active Isolated Stretching (AIS).
Imagine over 30 years of pain and countless visits to practitioners who could do nothing. So he took it upon himself to become an expert in AIS for his own well being and is now the top Stretching Coaches in the state of Hawaii. In his search to find the right stretching to cure his own low back pain, he studied all types of techniques, including 4 different types of Yoga, PNF stretching, Rossiter method, Thai massage, Russian and Finish Sportsmassage, pilates, and gyrotonic. Based on his own struggles, he concluded that the method that would help him, would be the best method for helping others with the similar chronic pain issues.
Anthony attributes his recovery entirely to a stretching style called the Mattes Method. By interning for Aaron Mattes himself, he's compiled one thousand hours of direct study. Mattes refers to Anthony as one of  his top five practitioners in the world. What Stretching Coach do you know with that type of testimonial?
Active Isolated Stretching can benefit everyone. Athletes can improve performance, people with physical pain may resolve long-time ailments, elderly may improve the functioning of their bodies and minds, and people with neuromuscular disorders may greatly benefit, including complications from stroke, Parkinson's, Alzheimer's, fibromyalgia, spinal cord injuries, and scoliosis.
Contact the Stretching Coach
Call the Stretching Coach who empathizes with what you're going through and knows exactly what to do to help resolve your pain using AIS: the Mattes Method. Call 808-737-3997 today.