Anthony Ohm
Tel. 808-737-3997
Flexibility Training, Sports Therapy, Physical Rehabilitation practiced by the Stretch Expert of Honolulu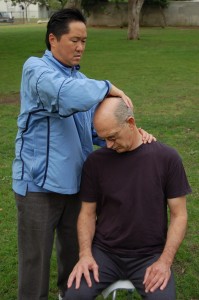 "Mr. Anthony Ohm is one of the foremost Advanced Active Isolated Stretching therapists in the world."
Aaron Mattes, Developer AIS


Objective: Resolve physical pain problems with the Stretch Expert of Honolulu: back, neck, shoulder, knee, wrist, jaw, foot…all pain.
Highly beneficial for: sacroiliac pain, herniation, degeneration, scoliosis, stenosis, sciatica, spondylolisthesis, stroke, fibromyalgia, partial paralysis, arthritis, bursitis, frozen shoulder, Alzheimer's, MS.


Method: Active Isolated Stretching & Strengthening (A.I.S.): The Mattes Method. Musculo-Skeletal treatment. Address physical pain by lengthening & rebuilding muscles that attach to or surround a problem joint.


Active Isolated Stretching & Strengthening education:
1000+ hours of direct training with developer, Aaron Mattes. Instructor level. Training time consists of seminars, teaching workshops, and internship at the Sarasota, Florida clinic.


Additional training: Massage School of Santa Monica & independent workshops.
Transcripts available upon request. 738 contact hours.
Other notable coursework:
Lymphatic drainage – Dr. Bruno Chikly's method.
Rossiter technique – combining rolfing & stretching against pressure.
Russian massage – combining deep tissue massage & assisted stretching.
Sports massage (Finland) – assisted stretching, deep tissue massage.
Thai Massage – assisted stretching technique
———————————————————————————————–
American Council of Exercise (ACE) certification in Personal Training. 2010.
Pilates Instructor: Angel City Body Kinetics. Instructor: Marie-Jose Blom-Lawerence. 2006. Marina del rey, CA
Gyrotonic Instructor: (therapeutic movement) Angel City Body Kinetics.  Instructor: Lisa Marie Goodwin. 2006. Marina Del Rey, CA.
CPR and First Aid certification. 2011,  American Heart Association.
California State Certified Massage Therapist #225
Insured by Associated Bodywork & Massage Professionals. ID No.: 933284

Academic education:Brown University. B.A. South Asian studies. Nepal, India, and Tibet. Sanskrit & literary Tibetan languages.—————————————————————–
To Whom Concerned: Mr. Anthony Ohm is one of the foremost Advanced Active Isolated Stretching therapists in the world.
He has received three elementary AIS student workshops and two advanced AIS workshops in the past
4 years.  Mr. Ohm has assisted in seven elementary and two advanced workshops, a total of 304
assisted workshop hours.
This does not include the additional hours before and after class where he worked with
various orthopedic, sports medicine and neurological problems.
Anthony Ohm has also spent over 600 hours interning at Aaron Mattes Therapy.
His technical protocol abilities are seldom seen with someone so early in his career.
Combined are his work ethic and great sense of urgency to solve each problem as
rapidly as possible characterize him as an exceptional therapist and personal trainer.
It is without reservation that I highly recommend Anthony Ohm.
Aaron Mattes, Developer AIS