The best Alzheimer's care in Honolulu is Active Isolated Stretching therapy. AIS therapy is highly effective dementia care in Honolulu. Reverse and prevent memory loss from dementia by reducing inflammation and improving circulation.
Active Isolated Stretching therapy is highly beneficial for multiple physical pain issues:
Degenerative disc, bulging disc, herniated disc; neuropathy, spinal stenosis, sacroiliac, stroke recovery, Parkinson's exercise, kyphosis, multiple sclerosis, scoliosis, frozen shoulder, Alzheimers, dementia, migraine headaches, sciatica nerve pain, bunions, hammertoes, shin splints, ankylosing spondylitis, sports injuries, hip pain running, non specific low back pain, chronic neck pain, arthritis joint pain, and much more.
Anthony Ohm is a chronic pain specialist and a stretching coach to world class athletes.
C4,C5,C6, C7 – Neck  Shoulder Pain Treatment Exercise-Active Isolated Stretching- Pain Specialist.
 L4, L5, S1- Lower Back and Hip Pain Treatment Video, Pain Relief With Back Exercises
Active Isolated Stretching with a trained Stretching Coach in Honolulu can help solve lower back pain, neck pain, shoulder pain, knee pain… and numerous chronic physical ailments.
Active Isolated Stretching is an alternative to chiropractic, physical therapy, and surgery.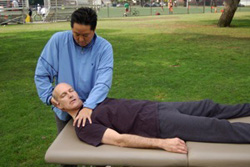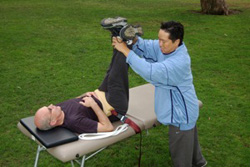 Frozen Shoulder Exercises and Treatment:
Lengthen the muscles in the arms, chest, shoulder, and neck. Create more space for the shoulder to move within the socket. Movement returns.
Lower Back Pain, Exercises for Back Pain:



Treatment begins with assisted stretching. Lengthen about 18 muscles in the lower body. This allows the pelvis to float within the structure.
Migraine Headache specialist:
Migraines involve extra tension in the upper body muscles. In particular, the neck, shoulders, upper chest, and jaw muscles. Tension is these muscles can create headaches. Remove the tension, rebuild the muscles. Migraines are treatable. Put in the time and you will be better.
Jaw pain:
TMJ involves extra tension in a series of upper body muscles.
Treatment For Scoliosis and Exercises:
Lengthen every muscle that affects the spine. Then, correct the curvature. Reinforce with strength training to maintain a straight spine. Scoliosis is correctable.
Sports Injuries and Sports Performance:
Professional and amateur athletes of every sport will benefit from Active Isolated Stretching therapy. Prevent or repair sports injuries with AIS therapy. Athletes will experience a noticeable performance increase after receiving treatment.
The root cause of soft-tissue pain is inflexibility in the muscles and fascia. The unparalleled muscle lengthening of Active Isolated Stretching treats the origin of physical pain problems.
---
Anthony Ohm, Massage Therapist & Personal Trainer
Call: 808-737-3997
Active Isolated Stretching & Strengthening (AIS)
Office Location in Honolulu, Hawaii (Waikiki-Kapahulu neighborhood).
do NOT contact me with unsolicited services or offers.
Address:
3359A Kanaina Avenue
Honolulu, Hawaii 96815
Cross street: Duval street